Q: What Distance Measuring Instruments does RACPro support?
A: The RAC Geo II and older model RAC Plus III. The RAC Plus I does not have memory capability and thus is not capable of downloading into RACPro.
Q: Is there an upgrade cost from WinRAC Plus to RACPro?
A: No. The base version of RACPro is available for free to licensed WinRAC Plus users. Your WinRAC Plus serial number can be used in RACPro.
RAC-GEO-II Sign Inventory Bundle
Includes: Everything you need to do sign inventory in one package. Comes complete with the the RAC Geo II instrument, mounting brackets, auto adapter power supply, external GPS antenna and User Manual. Also includes RACPro software, interface cable, laptop computer and carrying case.
​
​
Part #RAC-GEO-II-SIGN-K
Price: $2595.00
RACPro - 1-5 Seat Site License
Includes: RACPro Installation Flash Drive, Reference Manual and RAC USB power/download cable.
Licensed for up to five users at the same location.
​
Part #RACPRO-K
Price: $1095.00
In Stock?: Yes
GEO-II Set Up and Real Time Video
Quick Start Interface
Each time you run RACPro, the Quick Start Options screen will appear first. The options on this screen correspond to the main features you can access in RACPro. These are: Download Survey, Merge Surveys, Edit Schemes, Open a Recent File, Edit Default Settings and Edit Report Titles.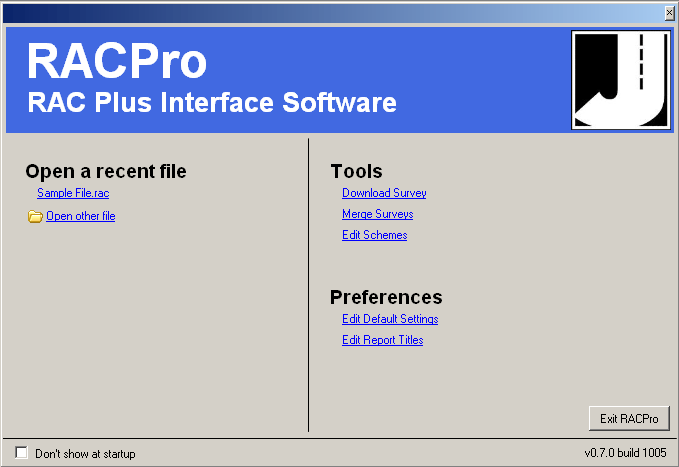 Download Survey Data from RAC Geo II
Simple point and click selections from RACPro's Quick Start
screen make functions like downloading data easy to do. Once you have setup the download screen with the settings desired, simply hook up your RAC Geo II and start downloading. RACPro will download all the data stored in the RAC Geo II and create data files that can be analyzed and edited.
Minimum Computer Requirements
-Windows 7, 8 or 10
-Pentium II or higher processor
-128 MB RAM or higher
-800 x 600 resolution, 256 colors
-Mouse or other pointing device
-20 MB of free space on hard drive
-Downloads RAC-GEO-II
-Real Time Interface w/ GEO
-Mapping of GPS Data
-Over 500 Sign Images
-Produces Extensive Reports
-Familiar Windows-style Design
-Multiple Export Options
-Full Technical Support
-And More
RACPro is a Windows-based program for use with the RAC Geo II Distance Measuring Instruments. It allows you to download surveys that have been collected with the RAC Geo II and once that data is in the program it can be analyzed and edited in a variety of ways. Comprehensive reports, which can be customized to suit your needs, can be produced.
Data can also be collected and sent from the RAC to a computer in real time.
Data that has been collected with GPS coordinates can also be mapped using the optional MapPoint software or Google Earth. Note that mapping with Google Earth requires an active Internet connection. Mapping with MapPoint can be done offline.
Introduced in 2010, this program replaced the older WinRAC Plus software.
RACPro is actively maintained and free technical support is available both online and via phone.